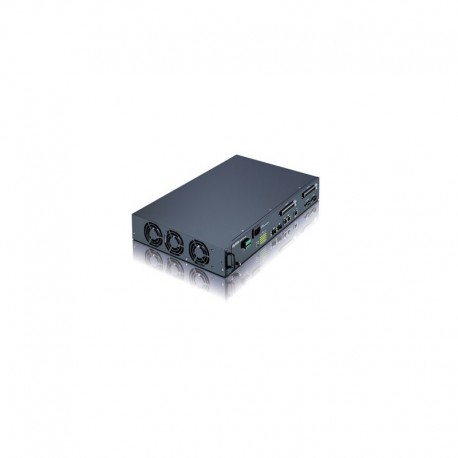 Images are for illustrative purposes only.
ZyXEL VES1724-56
24-port Temperature-Hardened VDSL2 Box DSLAM, 19" rack mountable, 1U, 16K MAC addresses, 10.36 lb
VES1724-56-EU01V1F
Out of Stock
Compact and Full-featured VDSL2 Technology Compliant with ITU-T G.993.2, G994.1 and G.997.1 The VES1724 conforms to ... Read More
New product
This product is no longer in stock
Compact and Full-featured VDSL2 Technology



Compliant with ITU-T G.993.2, G994.1 and G.997.1

The VES1724 conforms to G.993.2, G994.1 and G.997.1 to ensure the interoperability with standard-compliant VDSL CPE.



Ultra high-speed transmission with 30a profile support



The VES1724 supports 30a profile with 100 Mbps in both upstream and downstream traffics. With two Gigabit combo ports to connect upper layer aggregation networks, the VES1724 can support low-concentration interconnection from the subscriber ports to the network interface ports.



Triple Play ready

The VES1724 supports IGMP snooping to prevent unnecessary forwarding of multicast traffic to all subscribers and thus optimizes bandwidth utilization for multicast applications such as broadcast video. The VES1724 also supports the multicast VLAN feature that distributes the source to all the VLANs requesting the video stream. With a built-in splitter over POTS, the VES1724 allows the operators to provide Triple Play services over the same copper wire.



Complete QoS for service differentiation

The VES1724 supports not only 802.1X port-based access control for subscriber authentication, but also defines a limited number of MAC addresses that can access the network from a particular port. With rate limiting on the subscriber ports allowing services to take advantage of 64 Kbps increments, service providers will be in a better position to offer tiered services.